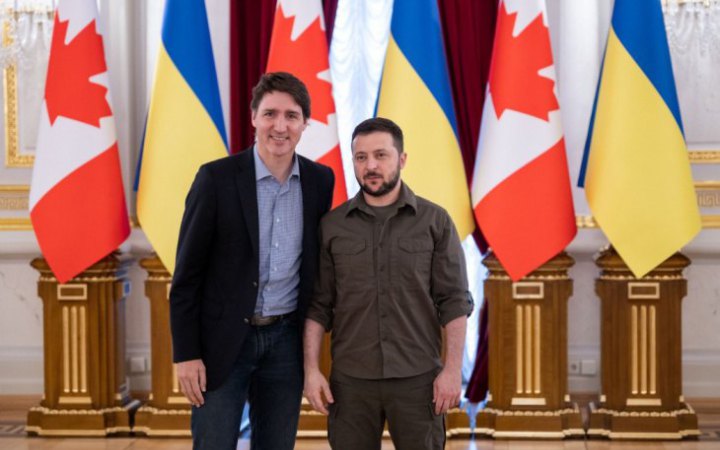 Ukrainian President Volodymyr Zelenskyi held talks with Canadian Prime Minister Justin Trudeau in Kyiv on Saturday, June 10. During the meeting, they adopted a joint declaration.
This was reported by the press service of the head of the Ukrainian state.
"Canada remains steadfast in its commitment to the independence, sovereignty and territorial integrity of Ukraine within its internationally recognized borders. Canada highly appreciates the determination and courage of the Ukrainian people and the Armed Forces in defending independence. Their steadfastness and courage on the front lines of democracy not only protect the security of Europe in the face of Russia's violent expansionism, but also strengthen the rules-based international system and demonstrate that no matter how brutal an enemy is, force does not make him right," the declaration reads.
The people of Ukraine can count on Canada to continue its political, financial, humanitarian and military support as much as needed, both individually and through international cooperation within the framework of the G7, NATO, the United Nations and any other format where Canada can make a significant contribution, the declaration emphasized.
"Canada supports Ukraine's initiative to achieve a just and sustainable peace based on the sovereignty and territorial integrity of Ukraine, and approves the key principles of the Ukrainian peace formula. Going forward, Canada will continue to focus its support on Ukraine's greatest needs, paying particular attention to the issues identified in the formula. Canada is ready to cooperate with Ukraine and other countries to ensure the widest possible international participation in achieving the goals of the peace formula, in particular by holding the Global Peace Summit in the near future and any other relevant diplomatic initiatives," the document says.
The leaders of Ukraine and Canada also confirmed the decisive role of the Black Sea Grain Initiative in the fight against hunger in the world.
Ukraine and Canada have also confirmed their support for the ICC prosecutor's investigations, a step towards ensuring accountability, and are taking into account court-issued arrest warrants. Ukraine and Canada agree on the necessity increasing our collective pressure on Russia through further sanctions in order to weaken Russia's ability to continue its illegal war of aggression, the declaration says.
We will remind that on June 10, Canadian Prime Minister Justin Trudeau visited Kyiv.