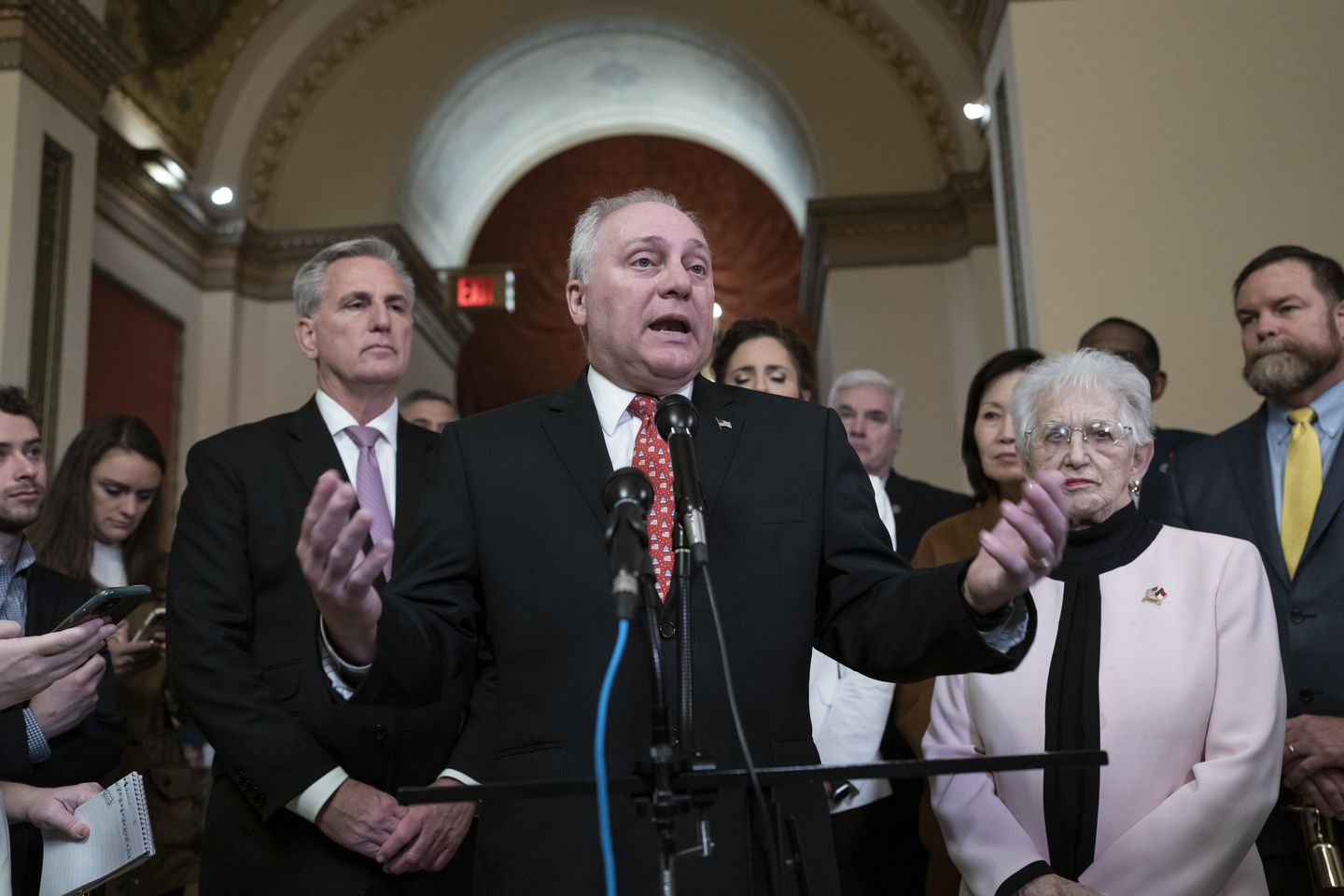 The House has passed a sprawling energy package that was championed by Republicans as a fix to soaring energy prices, and the bill garnered the support of four Democrats.
The Lower Energy Costs Act, which was designated H.R. 1 as the House GOP's top priority this Congress, would overhaul the environmental review process for energy projects to streamline their approvals, boost fossil fuel production and reduce prices.
"The day President Biden took office, he started taking immediate action to attack American energy," said House Majority Leader Steve Scalise, Louisiana Republican and a lead author of the bill. "President Biden has made it very clear: he wants to make it harder to produce in America, but he's not against the production going to countries like Russia, like China, like Venezuela."
The vote was 225-204, with a quartet of Democrats crossing the aisle to vote in favor of the legislation. They included Reps. Henry Cuellar and Vicente Gonzalez from oil-rich districts in Texas; and Jared Golden of Maine.
One Republican broke GOP rank to vote against the legislation: Rep. Brian Fitzpatrick of Pennsylvania, who co-chairs the bipartisan Problem Solvers Caucus.
House Democrats labeled the bill the "Polluters Over People Act" and vehemently opposed it as a threat to combating climate change.
---
SEE ALSO: Kremlin energy leverage in Europe evaporates as war grinds on
---
Mr. Gonzalez said he supported the bill because it would simplify the energy permitting process and help fast-tracking new energy projects.
"While this package is far from perfect, it is a step forward," Mr. Gonzalez said in a statement. "I am hopeful that we can work in a bipartisan and bicameral way to make progress on this issue and deliver for our constituents."
The Republican authors of the bill conceded that Senate Democrats and the White House won't go for it in its current form. Senate Majority Leader Charles E. Schumer, New York Democrat, has declared the legislation "dead on arrival." President Biden has threatened a veto.
House Republicans hope its passage, which marks the chamber's last legislative action before Congress embarks on a two-week Easter recess, will spark bipartisan talks. 
The wide-ranging package would accelerate the approval of mining and energy projects — renewable and fossil fuels alike — with a statute of limitations on court challenges and slashing environmental regulations; lift restrictions on liquefied natural gas imports and exports; prohibit a ban on fracking; prevent states from blocking interstate energy projects like pipelines; greenlight more oil and gas drilling on federal lands; and repeal billions in natural gas taxes and Environmental Protection Agency funds.
The original version of the bill was projected to increase the deficit over 10 years by roughly $2.3 billion primarily by giving more money from offshore production in federal territories to states rather than the federal government, according to the nonpartisan Congressional Budget Office. 
Democrats seized on the figure, prompting Republicans to amend the cost-sharing scheme to sunset after nine years. The change dropped CBO's deficit increase projection to $430 million.  
GOP leaders ran a tight ship on amendments to prevent last-minute hiccups that could derail the legislation, a change in practice from House Republicans' prior promises for a more open and free-wielding debate process.
Despite strong rebuke from Democrats that the bill would undercut fighting climate change, House Republicans said the legislation's bipartisan victory will buoy future talks across the aisle. GOP leaders are weighing whether to make energy demands in fast-approaching must-pass legislation like a debt-ceiling hike.
Behind the scenes, energy talks are already in the works with moderate Democrats, including Rep. Scott Peters of California and Sen. Joe Manchin III of West Virginia.
Mr. Schumer offered a blunt reminder of the distance between the House-passed energy package and what Democrats will support.
"The Senate is not going to waste our time on a bill that sets America back decades in our transition to clean energy," he said. "Let's stop throwing bones to the MAGA hard-right, which represents maybe 5% of America. Let's roll up our sleeves, let's get down to work and get something done on energy and on so many other issues."